Survivor - Manually Operated Water Filtration System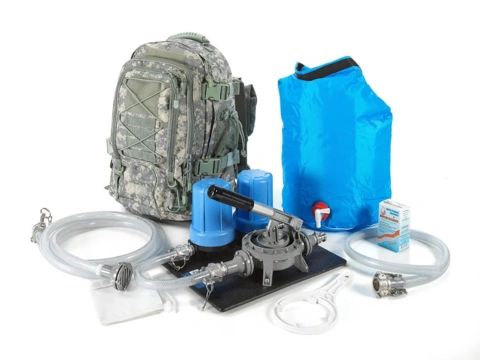 Survivor - Manually Operated Water Filtration System
Out Performs the Competition!
The Survivor is the most advanced and effective, manually operated (hand pump, no electricity needed) water filtration system available both on and off the planet. Filters water from any fresh water source. Used worldwide by Humanitarian relief groups. Great for when fresh water is needed for individuals or groups on the move or for long term drinking water needs..
Output: 1.5 Gallons per Minute / 90 Gallons per Hour
Long lasting filters, up to 5,000 gallons per filter set.

Tested by EPA Certified Laboratory
Meets and exceeds established EPA and WHO water quality standards for the reduction of:
99.9999%  Virus                    
99.9998%  Bacteria              
99.99% of Giardia, Cysts, Protozoan
Nanofiber filtration performance:
Filters last longer, filter up to 300 times faster, holds up to 25 times more contaminants than mechanical (micron) filters capable of removing viruses. Lasts longer!
Filters viruses, bacteria, cysts, algae, protozoa, sediment, dirt, spores, heavy metals, hormones, drugs, pharmaceuticals, radon, uranium, DNA, RNA as well as many other contaminants and disease-causing agents, and at sub-micron levels. It also reduces any radioactive particles which may be present.
With NASA, advanced space technology, you can drink from streams, rivers, lakes, ponds, springs, and other freshwater sources. The Survivor greatly reduces disease-causing organisms that cause cholera, dysentery, typhoid fever, as well as many others.
System Includes:
Industrial Marine Grade, Hand Pump 
Anti-microbial mounting board with cut-out for easy handling 
Stainless Steel Quick-Connect Cam-locks
NSF Food Grade Hoses
BPA free, food grade filter housings
Military Expandable Backpack
Wrench for easy removal of filters
Biofilm Defender Kit
(3) Filters and Strainer
Water Pure Nanofiber filter, silver/carbon impregnated, 5 micron carbon filter, 5 micron bag filter, fits over strainer
5-gallon collapsible water storage container
operating Instructions
 Water Filter System Specifications:
Dimensions: L 14" x W 10.5" x H 7" (Without Back Pack)
Weight: 10.5 pounds, 14 pounds in Backpack
3 Stage Filtration for optimum performance & protection
1st stage washable, reusable 5-micron sock filter
2nd stage, 5-Micron Carbon Filter removes heavy metals, improves taste
3rd Nano-fiber Filter, Carbon, Antimicrobial Silver infused, with 400 layers of Nano charged fiber, 5 Micron washable pre-filter outer wrap
 Certifications:
 IAPMO Certified, Filtration / EPA Lab Certified, Tested

Space Technology Certified, fast flow Nanofiber filtration, co-developed by NASA for use on the International Space Station.
Includes:
Back Pack
Industrial Marine Grade, Hand Pump
Anti-microbial mounting board with cut-out for easy handling 
Stainless Steel Quick-Connect Cam-locks
Food Grade Hoses
BPA free, food grade filter housings
Wrench for easy removal of filters
Biofilm Defender Kit
(3) Filters and Strainer
5-gallon collapsible water storage container
Instructions
Reviews