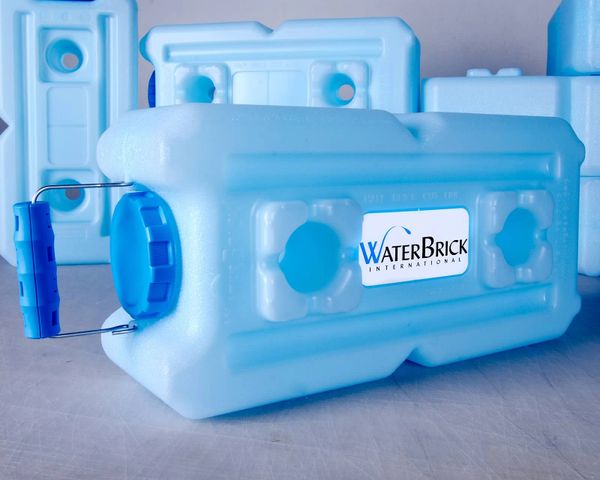 WaterBrick 3.5 Gallon
WaterBrick containers are not intended for the storage of flammable liquids.
WaterBrick Stackable Water Containers and Food Storage Container: 3.5 Gallons of Liquids or up to 27 Pounds (264 Adult Servings) of Dry Foods. Made of rugged, high density polyethylene (HDPE) with an easy grip comfort handle. These unique water containers, unlike any other, can also hold food and other life essentials while adding value by cross stacking up to 4 feet for maximum efficient storage. Wide diameter lid opening with notched easy grip lid allows for an average adult to pull stored contents out of the container by hand.
Product Specifications
Size: 9" W x 18" L x 6" H (shaped like rectangular blocks)
Product Weight

when Empty: 2.52 pounds

Stacking Strength: due to 2 interior conical reinforcement columns
Interlocking Strength: they interlock using their male and female connectors (cross stack for safety)
Wide Lid Opening is 3 1/4'' in diameter - can fit average adult hand to reach inside
Full rubber gasket creating a tight seal is included inside the lid
Recommended Stacking Height: 4 feet
Average wall thickness of container is approximately 3/32 of an inch (.090)
Meets FDA standards and BPA free
Emergency Preparedness
Frozen WaterBricks can be placed in the fridge to extend the life of perishable foods or medications in case of a power outage. When they melt, unlike ice, you'll have a fresh clean supply of emergency water on hand. Reduce the worry of losing food or important medications that are hard to replace right after an emergency.
According to Emergency Preparedness: Diabetes Management during a Crisis by Martha Archuleta, PhD, RD:
"Insulin can be kept at room temperature for 30 days. Most diabetes medications don't require refrigeration. However, a person may be taking other medications that do require refrigeration. If so, the following strategy can be used to keep medications cold: 1. Keep ice or frozen cold packs in the freezer and a small ice chest handy 2. If power goes out, medications that need to be refrigerated can be kept cold by placing them in the ice chest along with the ice or frozen cold packs."
Outdoor Activities
WaterBricks are great for use inside coolers. Use frozen standard size or half size WaterBricks, depending on your cooler size, to keep snacks and other perishable foods cool for outdoor activities. When they melt, unlike ice, you'll have a fresh clean supply of additional ready to drink water on hand. Great for picnics, boating, or any outdoor activity where ice is needed and added clean water is harder to get.
How to Make an Ice Block
Step 1: Fill WaterBrick with Water
Step 2: Fill to the Bottom of the WaterBrick Logo
Step 3: Place WaterBrick in Freezer
Time for WaterBrick to Fully Freeze *
Half Size = less than 1 day
Standard Size = 1 day
* Depends on your freezer
Reviews