WaterBasics™ Filtered Water Bottle (GRN-II-80)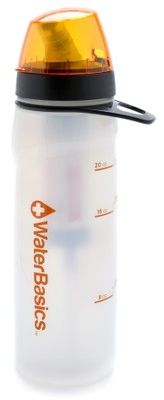 WaterBasics™ Filtered Water Bottle (GRN-II-80)
The WaterBasics GRN Line Filtered Water Bottle is the perfect way to enjoy great tasting, filtered water with just a squeeze and a sip. The simple to use design makes it easy to have fresh, clean, filtered water at home, at the office, in the gym, or for all kinds of outdoor activities. When you drink from a WaterBasics GRN Line Filtered Water Bottle, you are assured of a thoroughly tested and proven level of biological protection that includes protection from bacteria, protozoans and chemical and biological toxins. The high flow properties of the GRN Line filter make the WaterBasics GRN Line Filtered Water bottle as easy to drink from as sipping soda through a straw. With a price point closer to a to a basic taste and odor filter than a powerful biological grade filter, it's not only possible, but prudent to carry a GRN Line filtered water bottle everywhere you go. For the cost of 20 liters of bottled water, you can enjoy over 300 liters of filtered water with the assurance of GRN Line protection.
The WaterBasics GRN Line Filtered Water Bottle is BPA Free, fits into standard cup holders, backpack pockets, and bike cages. The patented Bite-Me valve is soft, friendly, flows like crazy, and stays clean thanks the unbreakable protective cap. It is leak free and will even stay sealed in an airplane overhead bin. The Series II filter design, contoured shape, soft squeezable design make the GRN Line Filtered Water Bottle a natural choice for drinking water protection.
Technology

WaterBasics GRN Line Protection is achieved using Electro-Positive Absorption Technology. Charged micro-glass fibers "pull" organisms as small as bacteria, out of the water stream while still maintaining high flow rates and low pressure drops. GRN Line filters have been thoroughly tested by independent laboratories, and proven to consistently remove protozoan cysts, and bacteria to ANSI/NSF - 53, and US EPA standards, without the use of disinfecting chemicals such as chlorine, bromine, or iodine. The addition of sub-micron carbon particles into the filter media increases the absorptive capability required to reduce chlorine and harmful chemicals, bad tastes and odors to ANSI/NSF – 42 standards. WaterBasics GRN Line filters provide superior biological protection, high flows and long service life in a compact, lightweight, and easy to use cartridge.
WaterBasics Series II is all about connectivity. Developed by our engineers to provide maximum ease of use and protection from cross-contamination, the familiar "plug-and-play" design works with all WaterBasics bottle and cap styles, and assures a positive "leak free" fit. Simply fill the bottle, replace the cap, and drink clean, fresh, filtered water wherever you are. Series II Filters are designed to assure a positive seal without the use of screw-in treads, o-rings or gaskets that can be misaligned, damaged, or lost. A positive seal means positive protection and peace of mind. You can depend on WaterBasics.
Choose Right

GRN Line Protection.
Series II Connectivity.
80 Gallon (512 refills) Capacity.
BPA, Iodine & Chemical Free.
Familiar "Squeeze and Sip" Sport Bottle Design.
<5% of the Cost of "Bottled" Water.
Reviews