SaveAqua Tap with Adapter 1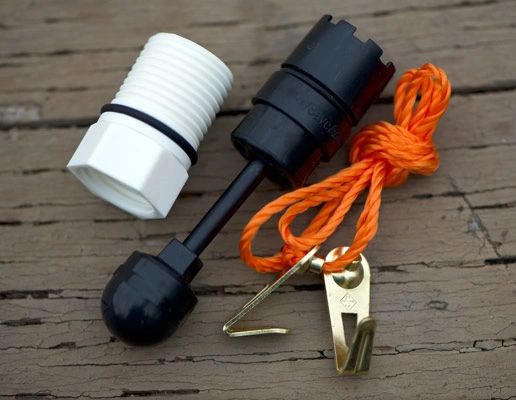 SaveAqua Tap with Adapter 1
Tap with container suspension system and Adapter 1 (Tap CA/US Patent 2,795,774/9,216,889).
Note: The SaveAqua Tap with Adapter 1 can not be used on WaterBricks!

The SaveAqua tap with tank adapter 1 is a compact and light weight device that is designed to promote personal hygiene and conserve potable water waste in locations where potable water is scarce.
The SaveAqua tap with the adapter 1 can be used on most types of plastic tanks that have a spigot. The tap itself includes a device for cutting the tap hole into the container. The cutting device is a permanent part of the tap.
The tap itself can convert any plastic container into an efficient water wash station dispensing device. The SaveAqua tap is designed to assist with personal hygiene when washing hands, face, or shower. It can also be used for washing dishes, or any other task where potable waste water conservation is important.
The SaveAqua tap excels in outdoor environments such as campgrounds and back country camping, and emergency disaster environments. Though the primary advantage of the SaveAqua tap is its portability and durability, it is also simple to use and is environmentally friendly.
The benefits of using the SaveAqua tap:
 Simple and convenient to use.
 Operates without electricity, or pressurized water systems, designed for non-pressurized
 water systems.
 Conserves wasting potable water - Tap saves 40 to 60% of water that is usually wasted when using a standard water spout system.
Durable, light, compact and convenient to use – a must for back country camping.
Allows for any plastic container holding water to be turned into a washing station.
Ensures minimum cross contamination of germs to your hands when using the tap.
No need to open or close the main spout each time you wash hands or dishes.
Three modes of operation: continuous flow, burst of water, off (off is used for transporting the  wash station).

The tap is all inclusive, with a blade for cutting the tap hole into the container. The blade is a permanent part of the tap. No need for other tools.
Included:
SaveAqua Tap
Cutting device and Nylon string for suspending the washing station for use
Adapter 1

    *Note: Nylon string color may vary.
Ideal for:
Emergency Preparedness
Survival Kits
Camping Trips
Outdoor Activities & Events
First Aid Kits
Gardening
Pet Drinking water for when you are on the go.

...Where ever Clean Water is Scarce!
Reviews