PURINIZE WATER PURIFIER 2.0 fl Oz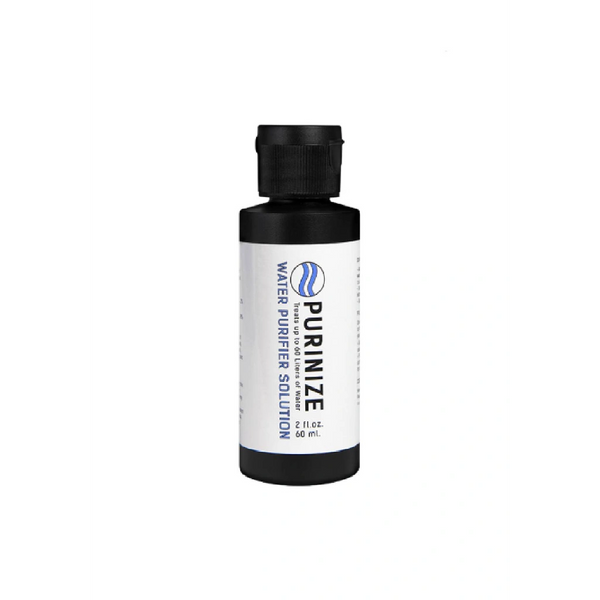 PURINIZE WATER PURIFIER 2.0 fl Oz
PURINIZE is a portable water purifier that produces safe, clean drinking water on demand from practically any freshwater source, without using toxic chemicals. PURINIZE is easy to use and effective against a broad range of contaminants including bacteria, viruses, protozoan cysts, chemicals, heavy metals, pharmaceuticals, and more.
Ideal for a variety of applications:
Eco-friendly
100% non-toxic; free of chlorine dioxide, iodine & other synthetic chemical disinfectants. Creates no harmful by-products (e.g. chloramines) when added to water like other purifiers.
Highly Effective
Neutralizes & assists in the reduction of over 200 biological & toxic contaminants that affect the health & flavor of water.
Improves Flavor
Neutralizes aesthetic contaminants, improving taste & eliminating bad odors. No gross chlorinated aftertaste.
Long-lasting
Won't lose potency after opening. Indefinite shelf life when properly stored.
Lightweight & Compact
Its small, portable size, weighing just a few ounces, can be easily carried by anyone, anywhere.
Superior Safety
No usage restrictions like other purifiers. Safe for anyone to use on a daily basis to treat any water you drink.
Easy & Convenient
Easy to use. Effective on water regardless of temperature or turbidity. Compatible with most water filters.

Ideal For: Camping, hiking/backpacking, outdoor recreation, international & domestic travel, emergency preparedness, water storage, natural disasters, disaster relief.
Active Ingredient/s: Patented formulation of complex mineral salts (electrolytes).
Improves Taste & Odor: Yes
Removes Turbidity: Yes
Effective Against Microorganisms: Yes. Bacteria, viruses & protozoan cysts.
Effective Against Chemicals & Other Contaminants: Yes. Industrial & agricultural chemicals, heavy metals, pharmaceuticals, volatile organic compounds (VOCs), disinfectants & disinfection byproducts.
Treatment Capacity: Treats up to 15 gallons (60 liters) of water.
Weight: 2.4 ounces
Dimensions: 4" H x 1.2" B
Wait Time: 60 minutes
Shelf Life: Lasts indefinitely when properly stored.
Made in the USA
U.S Patent: 4,776,963
x
Reviews