H2O FiX - Hot Tub/Spa/Jetted Bath Treatment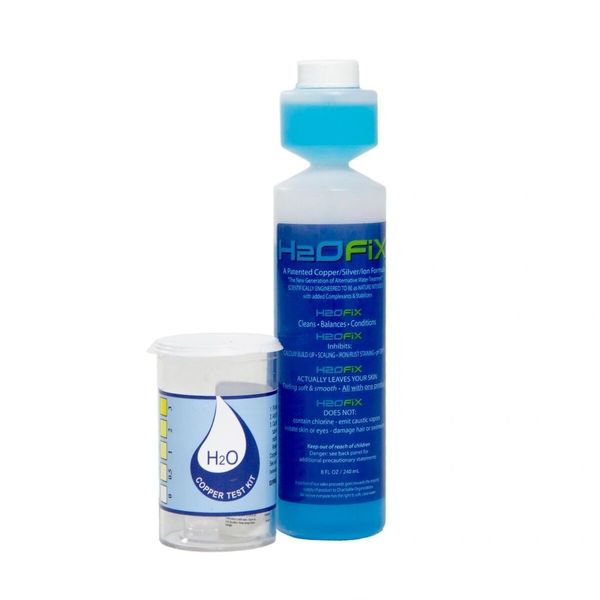 H2O FiX - Hot Tub/Spa/Jetted Bath Treatment
H2OFix, IS the most advanced and scientifically engineered, hot tub/spa water treatment product ever developed. Engineered by the former Chairman of the Chemical Engineering Society, Endorsed by the Commander of Public Health Services, (Retired) 
H2OFiX is the simple, easy to use, one-step solution that makes balancing easy
One 8 oz bottle of H2O Fix, typically lasts 6 to 8 months, sometimes longer, one ounce treats 400 gallons
The results are a crystal clear, clean, soft, odor free hot tub/spa
No more slimy walls, scaling or calcium buildup, reduces the need for  cancer causing chemicals such as chlorine by up to 90% and best of all it's environmentally friendly
Comes with copper test reagent, good for approximately 40 tests
H2O Fix is the environmentally friendly choice that gets to the root of the problems in your hot tub/spa water... it loosens and attacks biofilm, where 99% of bacteria safely harbors, and cannot be penetrated or prevented when using chlorine or bromine
Why Use H2OFiX?
The result of using H2O Fix hot tub/spa treatment is a dramatic reduction in the levels of bacteria, needing only the minimal amount of sanitizer, while giving the hot tub/spa user a healthier, more enjoyable soaking experience
It's gentle, even on the most sensitive skin. If you've ever soaked in a hot tub treated with chlorine, bromine or other harsh chemicals you've noticed that instead of a relaxing hot tub experience, you have experienced dry itchy skin, red watery eyes, bleached out swimwear and harsh, caustic odors
Well... Not anymore! Unlike traditional hot tub water care products, H2OFix actually softens your water, soothes your skin as it replenishes your soul, without the need for harsh chemicals. We've accomplished this with our scientifically engineered, and patented copper-silver ion based solution that contains other stabilizers, and complex-ants that break down biofilm, slime, inhibits pH drift, inhibits calcium buildup and iron rust corrosion
H2O FiX reconditions the water so your equipment performs better and lasts longer, as it reduces the threat of contamination. The result, there's less "killing" to do, which means the need for chemical sanitizers can be reduced by as much as 90%. With H2OFiX, you can now sit back, relax, and enjoy the benefits of bathing in a much healthier more relaxing hot tub
Note* The picture of the hot tub with biofilm floating on top of the water is after one single treatment
All of this with Just One Simple Treatment... One ounce, once every 2 to 4 weeks is all you need, its that simple!
Reviews