H20 Res Q Water Storage Kit - 3 Part Kit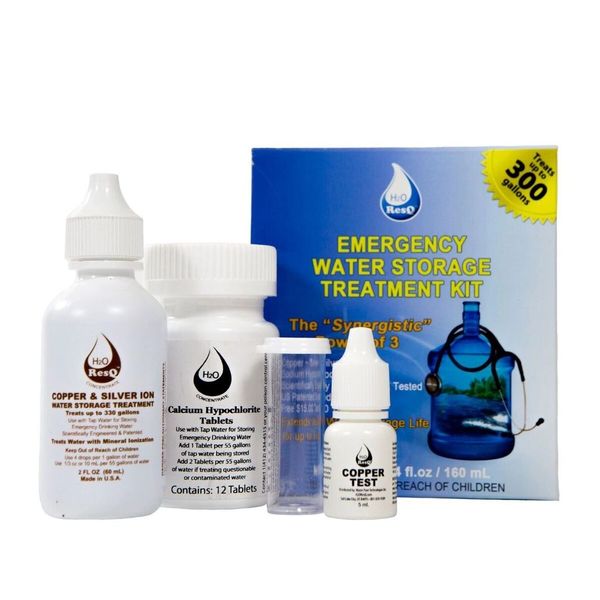 H20 Res Q Water Storage Kit - 3 Part Kit
Researchers have estimated that 60-80% of microbial infections in the body are caused by bacteria growing as a bio-film - as opposed to the planktonic (free floating) bacteria
Scientific studies worldwide, have proven copper-silver ionization to be the single most effective method for treating bio-film related bacteria in water, long-term. Not only have we focused on the destruction of bacteria present in water, we have studied the behavior of bacteria in the environment.
They have come to the conclusion that traditional agents (chlorine, iodine) cannot prevent the all-important formation of biofilm, where 99% of bacteria feed, breed, take shelter and multiply
Claims are based on independent testing, lab testing, peer-reviewed scientific research, and have not been reviewed or approved by the EPA
H2O ResQ is a Scientific breakthrough for controlling biofilm-related  bacteria. It is a highly effective long-term solution for maintaining, clean, pure, fresh tasting water.
H2O ResQ is endorsed for treating and storing water by the former Commander of Public Health Service (retired)
H2O ResQ eliminates the necessity to refill and rotate water every 6 months, good for 5+ years 
Scientifically engineered, and patented by the former Chairman of The Chemical Engineering Society
Developed to defend against biofilm-related bacteria 
Extends the life of filters by soaking overnight, in a solution of H2O ResQ as per instructions, can be used with any type of filter media
Simple, and easy to use
1 drop treats (1) liter of water
10 mL (1/3 ounce treats 55 gallons)
2 ounces treats ( 330 gallons)
3 Part Kit Includes:
(1) 2 ounce (60 mL) bottle copper/silver ion solution, treats 330 gallons 
(1) 5 mL bottle ion test reagent, good for approximately 40 tests
1) Bottle of 12 (70% one gram) calcium hypochlorite tablets, treats 660 gallons 
Instruction Pamphlet
Reviews