Water Pure Technologies - Gravity Flow - Water Filter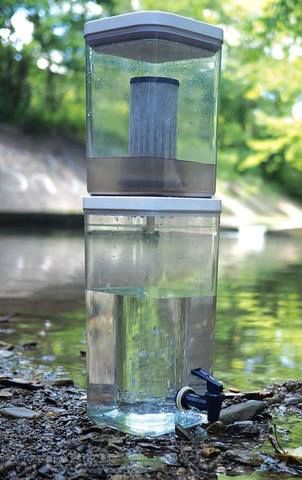 Water Pure Technologies - Gravity Flow - Water Filter
The Water Pure - Gravity Flow Filter, Nano filter was co-developed by NASA, for use on the International Space Station. It produces drinking water that exceeds the Environmental Protection Agency, and World Health Organization's Protective Standards. It filters enough water for a family of 4 for approximately 6 months. Water Pure's - Nano Electropositive filter media is the heart of all Water Pure Technologies water filter systems.
Average flow rate on our gravity flow filter is approx. 10 L per hour
Cartridge life: 3,000 L (750 Gallons) 
Results depend on the quality of input water, pre-filtration is recommended for dirty water
Reduces 99.9999% of waterborne viruses (6-log reduction)
Reduces 99.9998% of waterborne bacteria (5-log reduction)
Reduces 99.99% of waterborne protozoa (4-log reduction)
Out performs the competition, filters water up to 300 times faster than Berkey, and it will hold 25 times more dirt and contaminants than a mechanical ceramic filter capable of removing viruses. Nano Filters will not crack or break, it's the absolute best filter for home and in the field use both on and off the planet.
Quick install in all water containers, comes with wing nut, and (2) Washers. All you need to do, is drill a 3/8" hole in the bottom of the top container, through the lid on the bottom container ,and thread the filter on. Drill a whole for the spigot which is available at any hardware store and thread it on.
Exceeds EPA and world Health Organization's Protective Standards.
Reviews