Frontier™ UQC Splice Kit 1/4"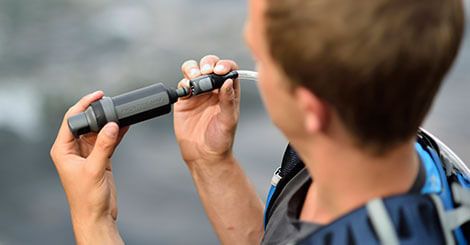 Frontier™ UQC Splice Kit 1/4"
The Frontier UQC Kit makes connecting your Frontier Max or Pro filter to the hydration equipment you already use a snap. Perfect for hikers, campers, survivalists, and preppers alike.
Product Features
Universal connectivity fits all hydration systems with 1/4″ hoses, including Camelbak® and Platypus®
Two-button design prevents accidental disconnects
Valved connector shuts off liquid flow when disconnected
Smooth profile does not "catch" on equipment
Perfect For
Camping
Backpacking
DIY Filter Systems
Survival
Technology
The patented Frontier UQC (universal quick connect) is designed to connect directly to the quick connect fittings provided on your personal hydration system. If your system was not supplied with quick connects, the addition of the UQC splice kit will allow you to add a Frontier Max or Frontier Pro filter directly to your hydration system tubing with a quick "click." The double-button release system assures positive connection and prevents accidental releases due to bumps and drops. The valved connector stops the flow of liquid when disconnected, protecting your supply of precious hydrating liquid. The smooth profile prevents the quick connect from catching on equipment or brush.
No need to worry "if it fits" since the UQC connects directly to all major quick connects. Truly a "one size fits all" solution to making quick and secure tubing connections in the field. Use the UQC Splice Kit to connect a Frontier Max or Frontier Pro filter directly to your hydration drink tube, or to add extra tube length to improve flow on a gravity filtration system. The UQC splice kit is a must have item for any serious backcountry adventurer.
Fits any system with 1/4″ ID tubing such as Camelbak® and Platypus®.
Reviews