Emergency Water Supply 3 - Tank System | DIVVY 250 - Free Shipping Does Not Apply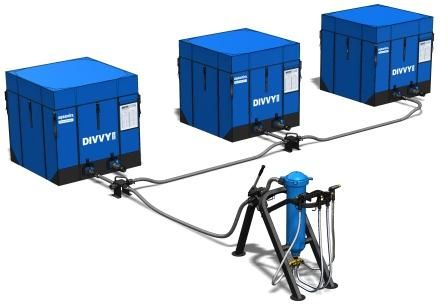 Emergency Water Supply 3 - Tank System | DIVVY 250 - Free Shipping Does Not Apply
- Free Shipping Does Not Apply



Designed to Deliver: The Aquamira® DIVVYTM 250 3 - Tank Emergency Water System delivers lifesaving, purified water from any fresh water source at a rate of up to 6,000 gallons/day, without the need of fuel or electricity.
Three Step Modular Design: The modular design allows for easy transport, minimal storage space requirement, easy "tool-free" set up and assembly, unlimited expansion and adaptability in changing conditions, with capacities of up 6,000 gallons/day/dispensing unit.

We put the Human Back into Humanitarian:
In a disaster your greatest resource is the people who are in need. The DIVVY 250 3 Tank is designed to serve humankind in more ways than just providing purified water. By putting the people to work to serve themselves and others, human dignity is restored, service and self-reliance is promoted. The small and simple unit is designed to be human powered, human transported and human serving.
Technology

Low Cost, Proven Purification Method: The DIVVY 250 purifies water in a two-step process of "super chlorination" and micro filtration. Batched water is chemically inactivated in the DIVVY Tank using a 3-5ppm concentration of NSF/ANSI Standard 60 certified calcium hypochlorite, followed by final filtration at the distribution point. The result is inactivation of >99.99% virus, >99.9999% of bacteria, and removal of >99.9% of protozoan cysts. The final filtration process also reduces chlorine content to less than 1ppm, and removes chemical contamination, bad tastes and odors, all for less than $.04/gallon.
Rapid Deployment: The DIVVY 250 is designed to be quickly transported to the site and assembled in less than 30 minutes, without the need for tools or heavy equipment. Everything from transport, assembly, operation, and distribution is "Human Powered." Tubing, valves, fittings etc. are sized and configured so that they cannot be assembled incorrectly. All components of the DIVVY system are designed to collapse into compact storage and transport containers for rapid deployment and space efficient storage.
Air drop package also available.

Modular, Scalable, Adaptable Design: Aquamira engineers have incorporated the same efficient modular design concepts made popular in our hand held filtration units into the DIVVY emergency water system. The result is a system that is infinitely expandable, or customizable. Additional DIVVY Tanks can be added to eliminate wait time for disinfection. Additional distribution stations can be added to relieve congestion at the point of distribution. etc. Your DIVVY application engineer can help you to customize your system to best suit your needs.

Complete "Turn-Key" Solution:
The DIVVY 250 provides everything needed for the collection, disinfection, distribution and transport of emergency water. DIVVY engineers can help you determine your needs based on population service requirements, available water sources, additional water needs etc. The DIVVY 250 is your complete water system from source to point of use.
Choose Right
Low Cost: Less than 1/2 the price of comparable systems. Purified water @ less than $.04 USD/gal.

Easy to Deploy: Light weight, modular, "tool-free" setup.
Human Powered: No need for fuel or electricity.
Portable: Can be hand carried to the site. Fits in the back of an SUV.
Store with Confidence: No need to dry and re-sanitize tank prior to storage. Just dispose of the tank liner and filter and restock for next event.
Proven sanitation method: Incorporates cost effective, safe and proven powdered calcium hypochlorite for disinfection, and final carbon block filtration for cyst and chlorine removal.
Infinitely expandable: Contact your DIVVY engineering team to size a system specific for your needs.
Reviews