Emergency Water Storage Kit (30 gal)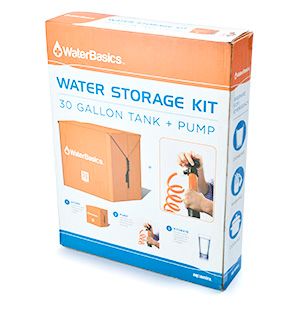 Emergency Water Storage Kit (30 gal)
The WaterBasics 30 gal. Emergency Water Storage Kit is a new and innovative approach to the age old problem of storing water. Forget the bulky, and cumbersome ridged plastic containers that are difficult to transport, fill and dispense. Now you can have emergency water storage available in minutes, with a system that you can store under the bed. Simply open up the package, insert the stiffener pack and Liner, and fill on the spot. WaterBasics even provides all the fittings necessary to connect and fill your system from any hose spout, or faucet. Two layers of containment assure that you can store water without worries, leaks or spills. Includes 10' Retractable hose with a shut off valve and easy to operate, hand pump that tucks neatly away inside the container when not in use. The pump accepts any Series II Filter or can be used with the directional nozzle for accurate, spill free filling of containers. Because the WaterBasics Emergency Water Storage Kit is so easy to transport and set up it is perfect for home emergency water storage, base camps, family camping, larger groups, etc.
Technology

Patent Pending Collapsible Design. WaterBasics patent pending "Double Containment" Collapsible Container assures a positive leak free seal, easy access to your precious water, and the ability to "pack it away" when not in use. The Liner is constructed of double wall food grade LDPE that is BPA and phthalate free, it will not add taste or odor to the water, allows you to see the water, and maintains a positive seal. The outer shell is constructed of the same materials as inflatable rafts and has water tight welded seams to assure strength and provide a second layer of containment. The patent pending spout fitting allows you to connect to the water using the 10' retractable hose provided in the kit. Everything fits snugly inside the shell for easy storage and access when needed.
Everything you need. The WaterBasics 30 gallon Water Storage Container Kit includes everything you need to fill, store and dispense water easily and conveniently in your home or apartment. No more running to the store to get extra fittings, valves or pumps after you lug the big barrel home. The kit includes our patent pending drum adapter that allows you to connect the 10' retractable hose to any standard garden hose fittings to fill or dispense the water. Other fittings are included to attach to standard faucets, valves and Series II WaterBasics™ filters.

Making Water Storage Truly Portable. The WaterBasics 30 gallon Emergency Water Storage Kit was designed with portability in mind. Because it is easy to fill, drain, dispense and store, the kit can be used for short or long term water storage needs. Because it is easy to transport, it can be used at home, the cabin, base camp, or an apartment. Just fill, drink, drain and pack it up for another day. For long term water storage (>30 days) we recommend using with Aquamira® Water Treatment to assure fresh, great tasting contamination free water for up to 5 years.
Choose Right
Innovative Patent Pending collapsible Design.
Multi-Layer containment.
Replaceable, BPA and Phthalate Free, Food Grade Liner.
30 Gallon Storage Capacity.
Fitting Kit with Standardized Connections.
10' Retractable Hose with Standardized Garden Hose Fittings.
Pump with Shut-Off Valve, Series II Connectivity and Directional Nozzle.
Easy Transport, Set-Up, Storage, filling and Dispensing.
Reviews