Emergency Straw Filter - 2 Pk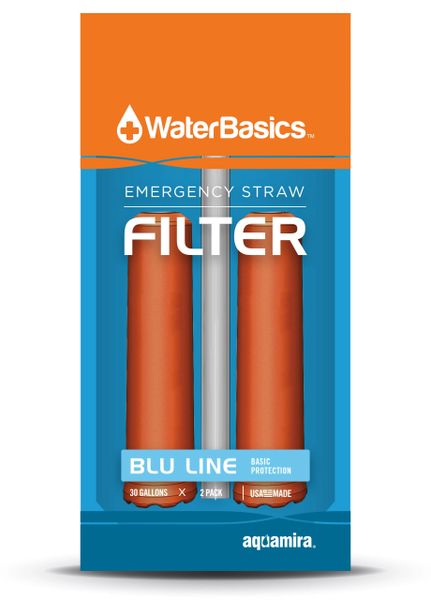 Emergency Straw Filter - 2 Pk
The WaterBasics Emergency Straw Filter is a pocket-size power house ready to provide emergency water protection when a reliable water source is threatened. The compact, ultra-light design makes it one of the easiest portable water filtration solutions available. The low cost pack of two filters makes it not only possible but prudent to add a straw filter to your home, car and travel emergency kits.
The Simple To Use Straw
allows you to drink from a cup, bottle or directly from a water source. It features a reusable pouch that can be filled when needed or used for storage when the filter is not in use. This straw filter features our BLU Line protection - a trusty basic level of protection which is ideal for familiar water sources including municipal tap water, potable water or fast moving streams and springs. Each filter features activated coconut shell which reduces waterborne chemicals while improving the taste and odor of emergency drinking water.


Technology
WaterBasics BLU Line Protection
is achieved using Aquamira Micro-Absorption Technology. This unique filtration technology combines the power of activated coconut shell carbon with medical grade micro-porous plastic to create much more than a "Taste and Odor" filter. WaterBasics BLU Line filters have been thoroughly tested by independent laboratories and have proven to consistently remove protozoan cysts to ANSI/NSF Standard 52, and US EPA standards. The addition of sub-micron carbon particles into the filter media increases the absorptive capability required to remove chlorine and harmful chemicals, bad tastes and odors to ANSI/NSF Standard 42 requirements. WaterBasics BLU Line filters have been tested and proven effective in removing Cyanotoxins such as Microcystin and other biotoxins. WaterBasics BLU Line filters are the low cost/high value choice for everyday use, providing the peace of mind that comes from knowing that you and your family are protected from protozoan and chemical contaminants which are responsible for the vast majority of all waterborne illness.
Choose Right
BLU Line Protection.
30 gal capacity/filter.
Lithtweight and compact (1oz./filter)
Easy to use straw design.
Re-usable pouch can be used for water collection.
Fits into pockets, purses, 72hr. kits.
Reviews