Water Pure Technologies - Dual Under Counter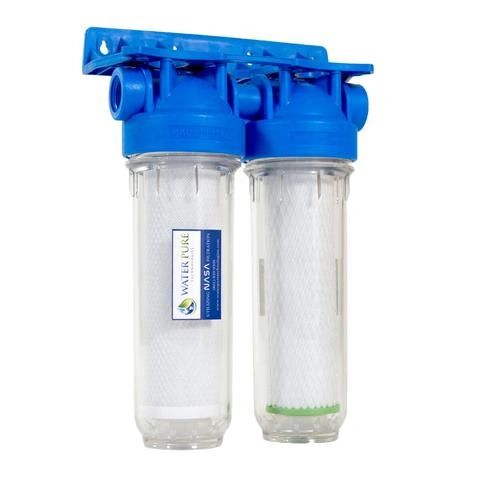 Water Pure Technologies - Dual Under Counter
The Water Pure, Under-counter water filtration system, utilizes NASA Nanofiber Water Filtration, Space Technology, used on the International Space Station. 
99.9999% virus reduction  
99.9998% bacteria reduction            
99.99% cysts, giardia reduction
Reduces heavy metals, lead, arsenic, fluoride, pharmaceuticals, drugs, hormones, pesticides, mercury, chromium, RNA, DNA, chlorine and many other contaminants.
System Includes:
Industrial Grade, BPA Free Housing
Single piece housing construction, eliminates leaks
Filter Housing Designed, Engineered, and made in Italy
3/4" inch female, in and out ports, all lead free fittings
(2) Filters, Housing Wrench, Mounting Bracket, Screws, Instructions and install kit, for quick install, not shown in picture
Comes Fully Assembled                                                                                   
Stage 1 - Coconut Carbon 1-micron pre-filter, for removal of dirt, rust, sediment, chlorine and some heavy metals.
Stage 2 - Nano-Electropositive Filter, impregnated with anti-microbial Silver, and Carbon with 5 micron pre-filter outer wrap for removal of viruses, bacteria, cysts, giardia, chlorine, heavy metals, pharmaceuticals, drugs, and more.
Approximate filter life - 10,000 plus gallons (depending on water quality). It is recommended to change filters at least once a year. 
Details:
Reviews