DIVVY Suction Hose with Strainer Kit (pre-filter) - Free Shipping Does Not Apply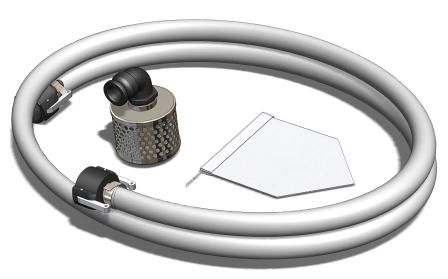 DIVVY Suction Hose with Strainer Kit (pre-filter) - Free Shipping Does Not Apply
Free Shipping Does Not Apply
Engineered to Adapt to Multiple Source Water Options: The DIVVY Suction Hose and Strainer Kit is designed to draw water from almost any fresh water source. Pre-Filter and strainer remove large contaminants and allow use from water sources with muddy bottoms or high sediment loads.
Technology
Draw From Any Fresh Water Source: Engineered to work with any fresh water source using the strainer and pre-filter sock. Strainer can be easily removed to connect to pressurized sources such as fire hydrants or water trucks.

"Tool-Free" Banjo® Cam-Lock Fittings: assure a quick, easy, and leak free connection with no need for tools. Fittings are sized to prevent "accidental" connections.
"Rust-Free" Band-It® Stainless Steel Clamps: Prevent operator injury, and will not rust even in harsh environments. Provide a smooth, leak-free connection.
Removable "Rust-Free" strainer and Filter Sock:
Strainer can be used with or without the pre-filter sock depending on the sediment load of the feed water.
Choose Right
Semi Rigid Tubing will not collapse under suction.
Banjo® Cam-Lock Fittings.
Bandi-It Stainless Steel Clamps.
Removable Strainer for connection to hydrants or trucks.
Replaceable 100µm rated pre-filter sock.
Engineered for DIVVY Systems.
Standard 1 1/2" ID x 10' Length
Reviews