DIVVY Distribution Hose Kit - Free Shipping Does Not Apply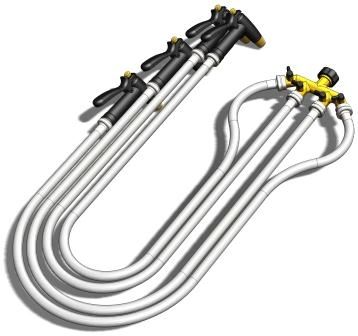 DIVVY Distribution Hose Kit - Free Shipping Does Not Apply
- Free Shipping Does Not Apply
Engineered for Ease of Use: The Distribution Hose system allows four containers to be filled at one time. Standard garden hose fittings make replacements easy and allow operators to modify the system for any application, such as shower stations, wound irrigation, and general cleanup in addition to dispensing life giving, purified water.

Trigger Sprayer Nozzles: Are easy to use and provide complete control over flow and spray pattern. The valved, 4 port manifold allows fluid control for each hose.
Technology
NSF Approved Hoses: Will not affect the taste or quality of the water, are nylon reinforced for strength and durability, and will provide years of rugged and reliable service.

Flexible Hoses: Allow water access where it is most needed. Users have plenty of space to fill containers, and hoses can be used for other purposes such as showers, wash down, and wound irrigation.
Complete User Control: Valved manifold and easy to use Trigger Sprayers provide complete user control at each access point. Individual lines can be regulated using the manifold valve, the trigger sprayer, or both.
Pre-Set Hose Length: Is engineered to provide the greatest flexibility with very little storage space requirement.
Standard Garden Hose Fittings:
Provide maximum flexibility and ability to adapt to changing conditions. Replacement parts are easily obtainable and can be replaced "in the field."
Choose Right
NSF Approved Hoses will not affect the taste or quality of drinking water.
Flexible Hoses for unlimited point of use (POU) access.
Complete user control.
Terminal Trigger Sprayer gives user control over stream or spray pattern.
Valved Manifold provides flow control for each line.
Standard Garden Hose Fittings make "in the field" repairs and replacements quick and easy.
Optimum hose length for user access, flexibility and pack ability.
Reviews