DIVVY 250 Tank - Free Shipping Does Not Apply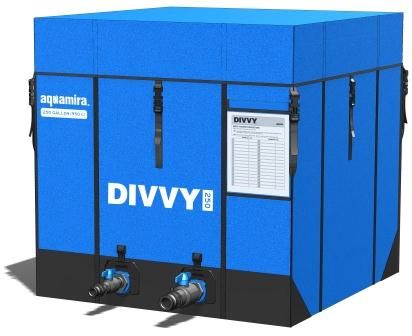 DIVVY 250 Tank - Free Shipping Does Not Apply
Free Shipping Does Not Apply
The heart of the DIVVY System:
The DIVVY 250 Tank combines a collapsible outer structure with a disposable inner liner to provide a quick and efficient method for storing, treating and dispensing, life saving water.
Disposable Form-Fit Inner Liner System: Is designed to contain the water in an air tight system, that eliminates the need for venting. Since the liner is disposed of at the conclusion of each event, there is no need to clean, sanitize, dry or store previously used tanks.
Flexible Outer Shell:
Folds down into a storage unit the size of a large suitcase. Made of extra tough, but light weight materials, the DIVVY Tank is designed to "pop-up" and be ready for filling in minutes, all without the need of special tools.
Technology
Unique Liner/Shell System: DIVVY engineers incorporated techniques used in advanced pharmaceutical liquid handling systems that isolate liquid from the container, thus maintaining an air and liquid tight barrier. No need to vent, clean, dry or store tanks.

Parachute Design Technology: Is incorporated in the design of the Outer Tank. Light weight, rugged materials combined with engineered stress panels and seams, handle extreme loads with minimal weight and flexibility.

Mistake Free Valving System:
DIVVY engineers designed the valving system to eliminate the possibility of connecting the wrong lines. Valves attach easily to ports on the liner without the need of tools and are locked in place with our unique valve lock panels. "Cam-Lock" fittings assure easy, "tool-free" connection to fill and distribution lines.
Choose Right
High Tech liner and Shell Design: Light Weight, tough and portable.

Disposable Liner: Vent Free. Eliminates need to clean, dry, and store tanks.

Valve Lock System:
Parachute Design Technology:

Light Weight but Rigid Panels: Provide structure with minimal weight.
Collapsible: For efficient storage and transportation.

Reviews