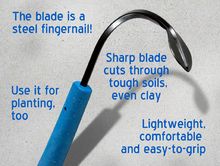 CobraHead® Short
The Original CobraHead® Weeder and Cultivator. Gardeners love this tool. Weeds, digs, cultivates, plants and more.
Make your gardening easier with the CobraHead® Weeder and Cultivator. Its blade is a steel fingernail® that becomes an extension of your hand.
It weeds, cultivates, scalps, edges, digs, furrows, plants, transplants, de-thatches, and harvests with ease.
The CobraHead out-weeds and out-digs all similar tools.
The time proven blade design breaks up and plows almost any soil.
The comfortable and efficient handle allows easy left-hand or right-hand action.
Free shipping to everywhere in the United States!
Made in Wisconsin, USA!
Specifications & Features
One year unconditional warranty
Weighs just 9.2 ounces
13 inches long
Tempered Steel Blade
Recycled Composite Handle
Made in USA!
Reviews